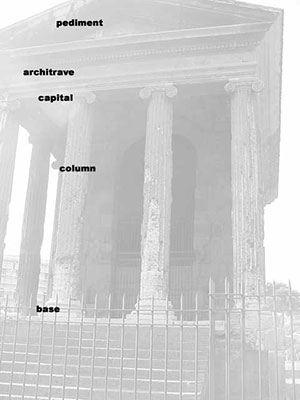 Around 500 BC, Greek architectural styles changed so that instead of building temples in the old Doric style, people began to want their new temples for the gods to be built in the new Ionic style. Ionic temples are a little fancier and more delicate than Doric temples, without being as elaborate as Corinthian temples.
In Ionic temples, the columns have a small base to stand on, instead of sitting right on the floor. They are still fluted, but they have more flutes than Doric columns. At the top of the columns, there's a double curve in stone, under the architrave (ARR-kuh-trayv). On the architrave, there is a continuous frieze (FREEZE) where the triglyphs and metopes would be on a Doric temple.

Here's a video made by a 13-year-old that does a good job of explaining the difference between Doric and Ionic.
Bibliography and further reading about Greek architectural orders:
Ancient Greek Architects at Work, by J. J. Coulton (1982). An interesting look at how Greek architects worked.
Greek Architecture, by A. W. Lawrence, R. A. Tomlinson (5th edition 1996). Might be a bit out of date.