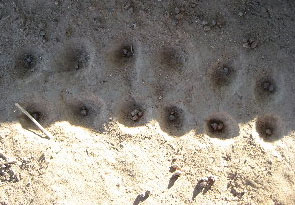 If you're a teacher, parent, or day camp counselor thinking of spending a week or so on ancient Africa, these are some ideas other people have found useful in their planning:
For costumes: Egyptians and Kushans wore linen tunics (best represented by big white T-shirts down to the knees). Along the coast of East Africa people wore cotton or silk shirts and loose trousers, and girls wore pleated skirts over their trousers, very much as in India. In the rest of Africa, people pretty much wrapped one piece of cloth around themselves, tying it into a skirt like a sarong. You can buy sarongs, or buy African cloth at a fabric store.
For food: The basic food in many parts of Africa was millet, so you might try that with a stew of vegetables and meat. Or try couscous, which people ate in North Africa. Yams (sweet potatoes), rice, bananas, and plantains are also common in various parts of Africa. If you need to supply one African food that people can eat with their fingers, maybe fried bananas or candied yams would be a good approach, or millet cakes, or sweet potato pies. For something even easier, how about bananas and dates, or dried banana chips, dried figs, and candied dates?
Africa Activities:
Speaking Xhosa
Trade Role-Play
Mancala and Hopscotch
Memorizing poems
Story project
Tie dye
Batik
Rock Art
Aloco (an African food)
A book of Africa crafts and projects from Amazon: