PDX Free Store
COVID update: we're not holding any regular free stores until other retail stores in the Portland area open back up, or until we figure out another arrangement. We're considering holding one in a park once the weather improves, or possibly getting a long trailer and having a moving free store like an ice cream truck. Stay tuned! The best place to reach us and discuss plans is our Facebook page.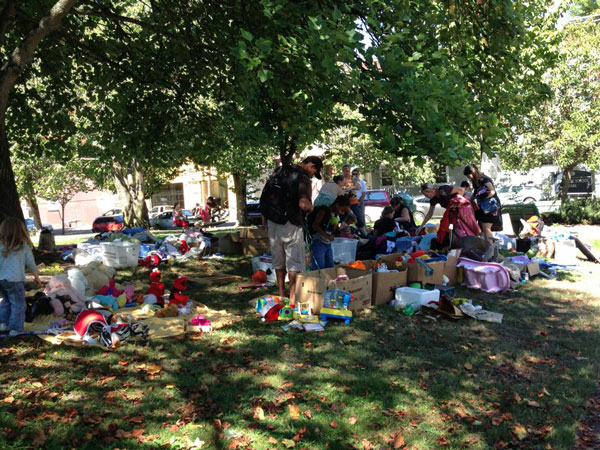 We're the Portland Free Store! We hold monthly free stores all over Portland, Oregon – a free store is like a big multi-family rummage sale, only without the prices. Everything is free! Everybody is welcome! Anyone can bring things, anyone can help organize, and anyone can take home as much as they want. There is much more stuff in the world than anybody could possibly want, and our goal is to keep it in people's hands and out of the landfill. We also serve a free lunch, often from Food Not Bombs, also entirely gleaned or donated food.
About the PDX Free Store
We've been holding regular free stores since December 2012; about 300 people come to each free store. We have no formal organization, and we are not affiliated with any group. We are committed to two principles: 1) There is plenty of clothing and other things to go around, and so there's no need to charge money for them, work for them, or limit how much anyone can take; 2) We do not coerce or pressure anyone into working for the free store. We love the free store, we love giving people things, and we love working to make it happen, but we only do what we want to do. If the free store gives away less stuff, or is messier, because you rested or worked for another cause, that's okay.
Nine free store principles:
What I'm working towards when I arrange a free store is to help people understand that there's plenty of good stuff in the world to go around, and we don't need to hoard it or fight over it or work for it.
This idea leads me to several other ideas:
1) I like to give things that are nice, that people can be happy to have, that I would give as a gift. Nice jackets, pretty dresses, cute shoes, stuffed animals, good books, beautiful art, good CDs, microwaves, televisions, x-boxes, rollerblades, skis, warm blankets and coats, etc.
2) I'd rather throw away stuff I wouldn't want myself: ripped jeans, stained t-shirts, toy cars with the wheels off, scratched CDs.
3) I'm happy when people take things, and take as much as they want, whether they really need them or not.
4) I keep my free store work fun. If I'm too tired to go pick stuff up, I'll stay home. If I'm tired of sorting clothes, it's okay if they're not sorted. This isn't a job.
5) Maybe nobody will come to the free store. That's okay. A lot of people will have gotten rid of stuff they don't want, and the ARC can always use the stuff if we can't.
6) I think free store stuff should be free. Maybe someone will give us a van! I don't want to buy or rent anything.
7) I'm here to help people get rid of stuff they're happy to be rid of; if you still want stuff, keep it!
8) You're free to do what you want, no matter how much of a crisis it seems like. Do what you want to do. Stop when you want to stop.
9) I'm just the person who called someone and talked them into letting me reserve a room. You can start your own free store easily (see below).
PDX Free Store Schedule
We usually have free stores about once a month. The date of the next one is always pinned to the top of our facebook page, and that's the best place to find out when the next one will be. Our posters look like this: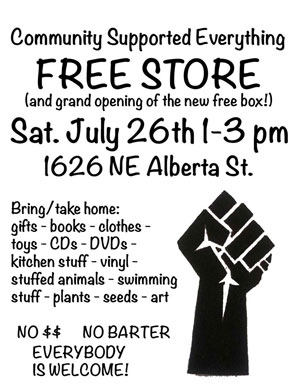 Volunteer to help the PDX Free Store
We have no formal organization. Anyone who wants to help can get in touch through our facebook page, or just meet us at the next free store. You could make things to give away, put up posters, find a new place to have a free store, organize your own free store (we'll come help!), do pickups of donations, do set-up, sorting, or clean-up. We're always in need of drivers with cars or strong cyclists with trailers who can help us get donations to the free store and take the leftovers away afterwards. Work only as much as you want to; stop when you've had enough. Use the facebook page to see what needs doing, and to tell us what you've done so we can thank you!
PDX Free Store Donations
We'll be happy to give away your extra clothes, electronics, toys, bikes, books, DVDs, stuffed animals, or housewares (dishes, sheets). We'd also love things you make yourself: art, cookies, knitted hats, canned jelly. We ask you only to give us things you'd give to a friend – nothing broken or torn. We can't take anything one person can't lift by themselves – no couches, beds, play structures, cribs. We don't have much storage, so please bring donations directly to the next free store if you possibly can.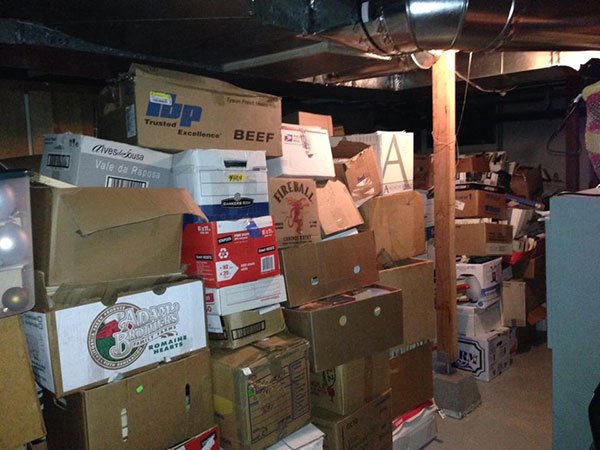 PDX Free Store Funding
We don't need any funding to have regular monthly stores – churches, schools, and other organizations have been happy to let us use their spaces. So far, we've never taken money from anyone, or paid money to anyone. For now, our plan is to keep it that way.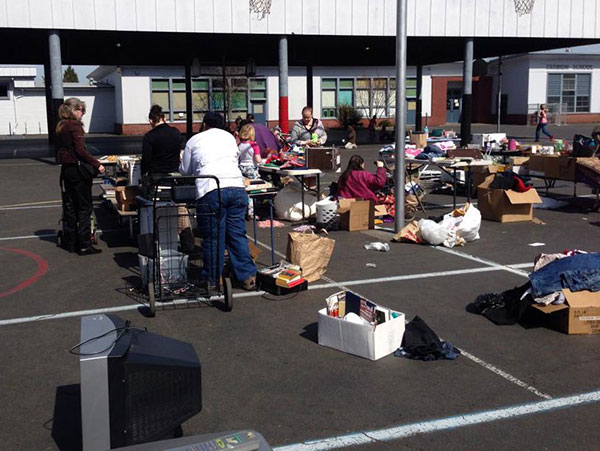 PDX Free Store Frequently Asked Questions
– Don't people just grab everything and shove each other?
No, they mostly don't. We trust people to be nice, and we treat them as our guests, with music, decorations, cookies. Someone greets people at the door. Mostly people act like they're at a fun party.
– What if someone takes more than their share?
We'll be delighted that all that stuff was saved from the landfill! They can take the whole room full of stuff if they want. It's all stuff nobody wanted, and there's plenty more of it where that came from. If it all goes quickly, we'll close early and go get some ice cream. We'll have another free store soon with more stuff.
– What if people come who aren't really poor?
We aren't trying to give just to poor people – we give things to everybody. We're trying to keep things out of the landfill. Anyone can take as much as they want to. (If you find you took too much, you can always return things at the next free store.)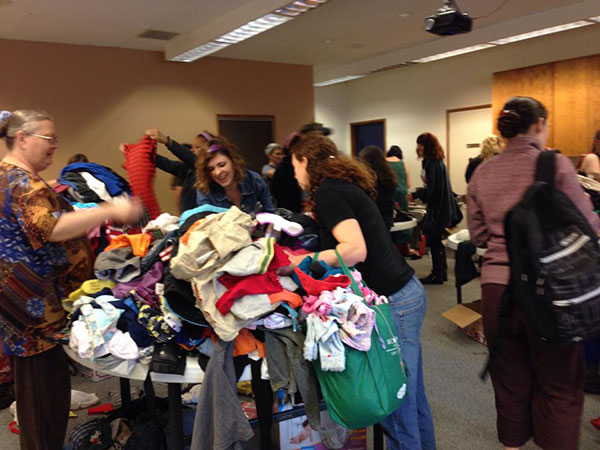 How to start your own free store
1) You need a place and time. One way to get that is to call up churches that seem to do a lot of outreach work, free suppers and stuff, and ask them. If they ask if you can pay, explain that this is a free store so you can't pay any rent for the room, but usually they don't ask. Tell them it's like a rummage sale except no prices, everything is free. Promise you'll clean up after yourselves and set their room up however they want. Ask whether it would be okay to bring food, and if so what their rules are about that. Work out a date and time that work for them and for you. We usually hold ours on Saturdays from 1-4, which means we need the room from about 11-6, for setup and cleanup. Ask to see the room first, and make sure they have tables or you'll have to bring your own, that's hard. An available bathroom is nice because you'll be there all day. Ask if you can use their dumpster for the trash. Ask if it's handicapped-accessible.
Another way is to do it in the summer and use a park; we've never gotten in trouble just setting up in a public park, but your mileage may vary.
2) More people will come if someone works on publicity. Some things we have done to get publicity are
– making a facebook event page and sharing it widely
– making posters and asking for volunteers to put them up around town (sample poster below)
– listing the event in the free event or garage sale sections of online classified ads (usually free or pretty close to free)
– calling the newspaper or local free papers and asking them to write it up, or sending them a press release
– listing the event with local charities to tell their customers about
– calling local radio stations
– tweeting
3) It makes me nervous the night before if I don't have any stuff ready, so I collect some stuff to start us out with before the free store starts. Some of this is whatever I am donating myself, and some comes from people who can't make it to the free store or don't want to come, or who are coming but don't have cars. Sometimes people just leave stuff on my porch, or I drive to their place and pick it up. I try not to take stuff that has already been picked over, like the leftovers from somebody else's sale. What goes fastest: stuffed animals, games and puzzles, CDs and DVDs. Hardest to get: men's clothing and plus-size clothing. Usually I have about 3-4 vanloads of stuff at my house by the time the free store comes around.
4) So you'll need 3-4 people with vans to come to your house in the morning and drive stuff over to the free store. I just post on the facebook event page or ask friends. But I don't insist; if people don't show up, there will just be less stuff at the free store, or maybe somebody will make two trips. Either way it's okay. If nobody's bringing lunch, consider packing some lunch because you'll be there all day. Don't bring a purse. Wear something with a lot of pockets. Bring a sharpie and blank paper and tape to make signs as needed. Bring any leftover posters to put up on the door to show that this is the right place. Bring ibuprofen and bandaids :) Bring grocery bags for people to take home their loot in, and big garbage bags for cleaning up.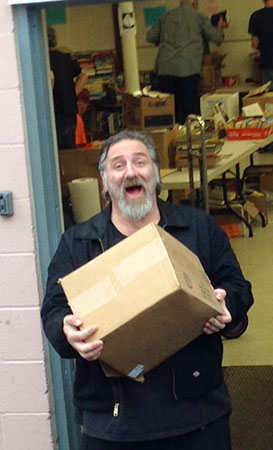 5) When we get there we unload and set up on tables. We organize in two ways 1) heaviest stuff like books nearest the door, lightest stuff like clothes farthest from the door. and 2) things that are together at Target go together at the free store: usual categories are toys, housewares, clothes, kid clothes, books, music, sports equipment, shoes, coats/hats/mittens, crafts, art, baby… But don't take charge, let whoever shows up to set up do it however they want to. It doesn't really matter. If you need more help setting up, let a few people in who are waiting outside to help you. We usually also put up decorations and try to have a boombox or something for music. And someone usually brings cookies to make it seem more like a party. Good idea to have water to drink too! We tell people they can start bringing stuff to donate about noon; most people who donate also stay and help set up. I try not to take any donations I can't lift by myself. Also no kittens.
If there is too much stuff to fit on the tables, put it in boxes under the right table, as overstock, and restock the tables during the day when there is room. Keep a lot of cardboard boxes to clean up at the end of the day. It's fine to take things you like as you see them! Stash them in a car if you don't want to lose them again.
Designate a spot for new unsorted donations, and see if anyone wants to hang out there and discourage people from standing there taking stuff before you can sort it. Ask them to shop on the tables instead; that way you don't get a mess by the door. But it's not the end of the world if they don't listen to you.
6) Right before you open the doors, someone should go out and make a little speech. Tell the people 1) this is not walmart, please don't tromple each other to death! Don't snatch things or hit people. 2) take as much as you want, it's free 3) all the people working here are volunteers so be nice to them :)
7) If someone, or several people, want to stand at the door and greet people and give them cookies, that helps to set the tone of being nice :) For the holidays we have a free gift-wrapping table by the door, where people can sit and help shoppers wrap presents. We recently set a new policy of not allowing strollers for the first hour, because it was too crowded, so we set up a stroller corral inside for them.
8) While people are shopping, several people can walk around cleaning up, putting out new things, talking to shoppers, making friends, finding stuff for themselves. New stuff will keep coming in so if people say they didn't find what they were looking for encourage them to hang out awhile and help sort the new stuff as it arrives. Keep reminding people that this is not a job. If they're tired, or feel resentful about "having to do all the work," they should stop and relax, or shop, or go home. If not everything gets sorted, that's okay. If it's a mess, that's okay. Maybe somebody else would like to take a turn sorting or cleaning up. Or not. (sadly, this is less true for the person whose name is on the agreement with the church. But even so, if you're tired, sit down. You promised to leave the place clean, and that's your only real responsibility here.) Don't agree to hold things for people, watch things for people, look out for specific things they want after they've gone home, etc. Too hard.
9) At 3 pm, or even earlier if most people have left or you've run out of stuff, start cleaning up. Shovel the stuff off tables into bags and boxes. Hopefully some people with vans will turn up to carry the stuff away, or you can encourage shoppers to volunteer their cars. (It's always hardest to convince people they want to do this part). Load up the cars. Resist the temptation to keep stuff for the next store: once people have picked it over once, there's not likely to be much left that people will want next time. Unless the thing is super cool, just send it away. Of course the people with vans can take the things anywhere they want, but if they ask for suggestions tell them the addresses of local charities that you feel good about. Take down the decorations. Don't forget your boombox. Sweep and mop, and put all the chairs and tables back where they belong. Take out the trash. Go home and put your feet up, you've earned it. Send thank you notes to everyone who helped, and to the church.